[July-August 2016]
The Ngadju Conservation Rangers are working with the Gondwana Link program to development and implement an environmental program in part of the internationally significant Great Western Woodlands*. The program, spanning 1000km of south western Australia, aims to achieve a cohesive and nationally significant conservation network.
Supported by Rangelands NRM through funding from the Australian Government National Landcare Programme, the ˜Ngadju Malleefowl and Weeds´ project have the ranger team  focusing on management priorities and targets identified in the Ngadju  Conservation Action Plan that has been development as part of the program.
The Ngadju people are the regions' Traditional Owners and have exclusive posession native title over a large section of the Great Western Woodlands and the malleefowl are an important part of the country and culture to be conserved.
Rangelands NRM Southern Rangelands Program Manager Kieran Massie said the work includes the protection and conservation of threatened species with an initial focus on malleefowl (Leipoa ocellata), a ground dwelling bird with a ˜vulnerable´ conservation status.
Ngadju Ranger work programs and capacity building in fire management, weed control, feral animal control and environmental monitoring are aiming to reduce impacts on the malleefowl populations from those environmental threats, he said.
Ngadju Coordinator Les Schultz said Ngadju Rangers would continue to monitor and map malleefowl habitat to keep an eye on how they are doing.
He said that earlier this year, the Rangers captured on remote camera, footage of a chick emerging from a mound in remote bushland south-west of Norseman.
---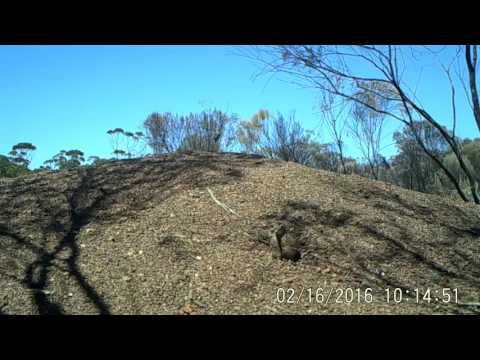 Ngadju Rangers are building on their skills and knowledge with training in surveying methods, chemical handling and occupational health and safety, Mr Schultz said.
He said the Rangers are also working on the important goals of protecting their country, plants, animals and sites of cultural significance from many threats including bush fires while Ngadju Conservation develops policy on managing the interface with farmers, pastoral and other stakeholders that surround Ngadju country.
The Ngadju team are becoming more skilled at on-country environmental management as result of additional training and are now being engaged in environmental protection work with local government of Dundas and Kondinin and with mining companies, he said.
Ngadju Rangers' recent work includes fencing the Noogoora Burr weed infestation area at Bromus Dam and installing bollards to control vehicle access, erosion, soil compaction and the spread of weeds at the Breakaways site (west of Lake Johnston) and cactus eradication at Rawlinna in partnership with the Goldfields Nullarbor Regional Biosecurity Association and with industry in infrastructure corridors..
After playing an important role in support of the Department of Fire and Emergency Services efforts to combat the well-publicised Esperance bushfires of late 2015, Ngadju Rangers cemented their fire-fighting role within the broader Dundas community. This was highlighted with the presentation of a Certificate of Merit to David Graham, representing the Ngadju Rangers fire-fighting team during the Australia Day Awards at the Norseman Town Hall in January 2016.
* Equivalent to Africa's Serengeti or South America´s Amazon, the Great Western Woodlands is an internationally significant area of great biological richness. The area covers almost 16 million hectares, (more than twice the area of Tasmania) and is a continuous band of vegetation spanning the edge of the Western Australian Wheatbelt to the Mulga country in north – the inland deserts to the northeast and the Nullarbor Plain to the east.
Image: Ngadju Rangers fencing at Bromus Dam
Video courtesy of Ngadju Rangers